i-ROAD meets 3D Printing
Welcome to OPEN ROAD PROJECT "ROAD KITCHEN"!
Come and make a 3D Print for TOYOTA i-ROAD vehicle parts.
Customized 3D printed parts make you express yourself on the street now and future!
(* This service is now open to participants of Open Road Project)
Exterior Hood

Flame

Unique and detail pattern of fire flame that ignites your aggressiveness for life!

Race Sport

Checkered flag and original number accelerate your driving experience

Tough

Honeycomb geometry provokes strong and tough impression
INTERIOR Drink Holder

Hearts

Different sizes of hearts represent every heart moving moment of your life

Numbers

Decorate your daily commute with randomly placed numbers

Organic

Strong and flexible organic design bring more fun to your driving experience

Road Signs

Playful and functional road pattern on your hand

Stars

Randomly scattered stars light up your journey

Streamline

Stream pattern wrapping the bottle recalls smooth drivability of i-ROAD

Tough

Honeycomb geometry provokes strong and tough impression
What can you do with 3D printing?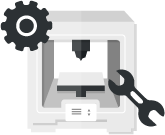 About Rinkak 3D printed, mass customized parts:
Rinkak allows users to customize their vehicle parts regardless the complex of design and cost of making molds and to make their 3D prints from 1 piece. Like the Open Road Project, participants can freely customize their parts by their own 3D data!
See More 3D Printed Products

About Wide-Ranging Printing Materials and Colors:
Provide wide-ranging printing materials such as Polyamide, ABS correspondent with wide-ranging color for prints.
See Our Range of Materials